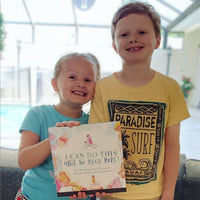 Raising Positive Kids!
I Can Do This and So Much More! is an interactive children's book designed to help kids grow confident, resiliant and positive! The book is filled with inspiration and messages of positivity.
This book is 108 pages and is divided into eight different topics. Each topic is briefly explained and followed up by a short story about the situation.
After each story, there is a simple activity which can be completed with your child so they can apply the lesson to their own lives!
Follow along with Sophie the Bear as she struggles to get the basketball into the hoop and learns how to develop a no-quit attitude.
Watch Lenny the Lion as he learns about setting up his own YouTube show and how it will take consistency to get followers.
Read about how Max the Butterfly gets his colors back when he learns to talk kindly about himself.
These and many other stories in the book are illustrated in beautiful watercolors that feature whimsical characters and settings.
These stories teach children to develop an "I CAN DO THIS" attitude and to celebrate their mistakes along the way, which will put them on a path of success in their life!
I Can Do This and So Much More! is geared to children ages 5 - 11, and is perfect for young readers and for children in elementary school.
Get the Book!
I Can Do This and So Much More! is a unique book for families to enjoy with their children. The book is a collection of short stories, which are not only enjoyable for children, but teach important life lessons and build character. I like that there are brief activities at the end of each story to reinforce the lessons taught. As a school psychologist and mother, I see first hand on a daily basis how children struggle with perseverance, grit, and self-confidence; traits that are critical for life success. This book provides a great means for children to build these traits at home, but this book could also definitely be used in classrooms as well. I highly recommend this book for parents and educators who want to assist their children in developing the qualities necessary to be successful in life!"

Janet Carfagna - Elementary School Psychologist and Mother
Katherine Reuter's beautifully illustrated book, I Can Do This and So Much More!, is an interactive social learning tool that supports the meaningful dialog of thoughts, beliefs and ideas between children and their parents. Child care specialists, educators and other professionals may also find this book helpful in their day to day contact with young children. The topics and the stories themselves, accompanied by relatable, engaging and vibrant illustrations fit the intended audience with an unassuming quality that is the hallmark of the approach to positive child development. Katherine's experience as both a mother, educator and writer come together to create a compelling reason for all of us to take a few moments each day to support the inner growth and spirit of any child in our circle.

Catherine White - Former Reading Specialist & Elementary School Principal
The social emotional component of this book is key for children. Children need to be taught self love and this book does just that. The illustrations are attention getting and encompass all children with the use of animals. The activities at the end of each section are quick and easy and allow for reflection at any age. I can't wait to put this book into action in my classroom and with my own children!

Gabrielle Atkinson - Mother & Elementary school teacher